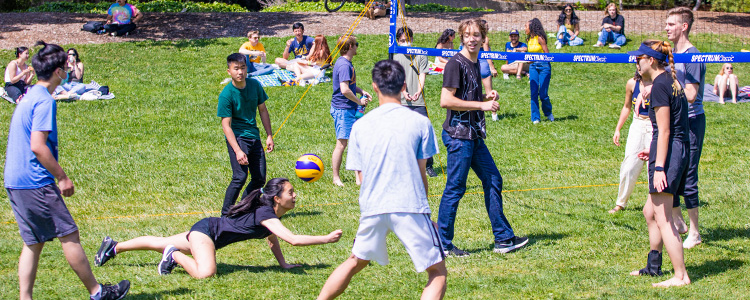 Being Considerate While Living Off Campus
UC Berkeley students are an important part of what makes Berkeley, well, Berkeley. It's important for students to embrace the City of Berkeley and the broader community they join. That means enjoying everything the city offers, from the coffee and boba tea shops along Telegraph Avenue to the unique restaurants and boutiques Downtown to the vibrant cultural and art scenes across the city. It also means being a good neighbor. Below are some tips on how students like you can be good neighbors.
Take the time to meet your neighbors. You can safely get to know them in person (some may prefer masks or distance) or through a note or an email.
Consider your neighbors' needs and schedules, and make smart and respectful choices concerning noise and parties.
Avoid conflict with neighbors and respect Berkeley's quiet hours (10 p.m. to 7 a.m. daily).
Obey all laws, including no underage drinking (consuming or serving those under 21).
When walking home at night, stick to well-lit streets and avoid sleepy residential areas. If you choose to walk along residential streets, keep your voice down and do your best not to be disruptive.
Group Living, Mini Dorms, and Co-ops

Students living in

group living accommodations, mini-dorms, or co-ops

must follow these good neighbors' practices. Students should check with the property manager or building owner for specific details.

You will be asked to provide contact information for the responsible resident so your neighbors can introduce themselves and have a single point of contact for your household. This is required by the city.
Notify neighbors at least 48 hours in advance of an event (such as a party or any activity that might involve elevated noise or more than 10 people), and provide contact information for someone who will be onsite during the event.
Planning an event with 50 or more people? You must fill out an Indoor Entertainment Event (IEE) application that must be submitted at least 10 business days before the event.
Manage trash and recycling collection by ensuring all debris is properly secured and not blocking sidewalks or traffic. Promptly return bins after collection.
Only use off-street parking in approved spaces.
Respond to complaints within 24 hours.
Notify the owner or property manager of violation notices for smoking pollution or multiple responses to loud or unruly parties. Smoking (including cannabis and vaping) is prohibited in all multi-unit buildings, patios, and balconies in the City of Berkeley.
Tips for Off-Campus Parties
Housing Assistance
Berkeley Basic Needs is a great place to start to get help with emergency housing, financial support, and housing search, as well as tenants rights and legal advising.
Moving Out
Please visit CalMoveOut.com, CalMoveOut.berkeley.edu and  #calmoveout on instagram in early 2024 for updates.
Want more tips? Check out Happy Neighbors Livable Neighborhoods, or, contact calneighbors@berkeley.com.